Chefs Recipes
It is lovely to go out to dinner with friends and family, but this is not always practical. You can recreate Chef's popular recipes in your own home, and as dining out introduces you to new food and flavour combinations that you can add to your culinary repertoire as well. On offer here are a chef's starter, main course and dessert recipe for you to try at home.
---
Chef's starter
Soy-Glazed Chicken and Tofu with Spring Vegetables
---
Ingredients:
4 tablespoons olive oil
1 large chicken breast, skin removed and diced into 1-inch pieces
Salt and pepper, to season
3 ounces firm tofu, cut into 1-inch cubes and lightly dusted with flour
2 ounces chopped broccoli florets
2 ounces fresh snap peas
1/3 cup honey
¼ cup reduced-sodium soy sauce
3 ounces shelled edamame beans
1 pinch red pepper flakes
There are hundreds of registered, approved food additives and preservatives used to enhance flavour, longevity, appearance or texture. Many of these are natural such as salt, sugar, vinegar, baking soda, yeast, vanilla and a range of spices. Yet many diners are wary of additives and preservatives in their food when they eat out.
Heat 2 tablespoons of olive oil in a pan and when it starts lightly smoking add the chicken until it is cooked through and then set aside the chicken. Add another 2 tablespoons of olive oil to the same pan and when lightly smoking add the floured tofu and sauté until golden brown on all sides and then set the tofu aside. Next, add the broccoli and peas to the pan and sauté until tender. Reduce heat to medium-low and push the vegetables to one side of the pan. Add the honey to the other side of the pan and heat it until it begins to simmer. Add the soy sauce and bring everything to a simmer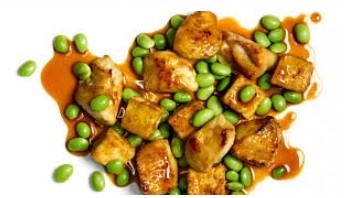 Stir in the edamame and red pepper flakes, cooking for 30 seconds, before adding the chicken and tofu into the pan. Sauté everything together until all ingredients are evenly coated and glazed.
---
Chef's main meal
Traditional English Fish & Chips
---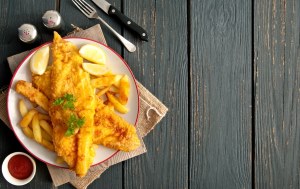 Ingredients:
Vegetable oil, for deep frying
3 large russet potatoes
2 cups rice flour
1 tablespoon baking powder
3 teaspoons salt
1/2 teaspoon freshly ground black pepper
1 (12-ounce) can soda water
1 large egg, lightly beaten
2 (8-ounce) cod or haddock fillets, cut in 1/2 on an angle
Malt vinegar, for serving
Heat 3 inches of the oil in a deep fryer to 325 degrees F. Peel and cut the potatoes into chips about the size of your index finger. Fry for just 2-3 minutes and remove them onto a paper towel-lined platter to drain. Raise the oil temperature to 375 degrees F. In a large mixing bowl, combine the flour, baking powder, salt and pepper. Combine soda water and egg and pour into the flour mixture. Whisk to a smooth batter. Spread the rice flour on a plate. Dredge the fish pieces in the rice flour and then dip them into the batter, letting the excess drip off.
Return the chips to the hot oil and carefully lower the battered fish into the bubbling oil on top of the chips. Fry the fish and chips for 4 to 5 minutes until crispy and brown. Drain both fish and chips on paper towels and season. Serve with malt vinegar and/or tartar sauce.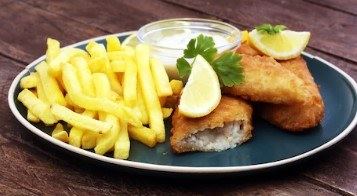 ---
Chef's Dessert
Sweet and salty crunchy chocolate nut bars
---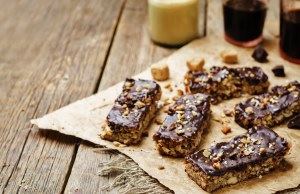 Ingredients:
7 ounces bittersweet chocolate
4 ounces milk chocolate
9 tablespoons unsalted butter
3 tablespoons golden syrup
2 1/4 cups salted peanuts
6 ounces honeycomb
Break the chocolate into pieces, add butter and syrup and melt gently together. Add the peanuts and crushed honeycomb and take off the heat and tip straight into a foil dish, smoothing the top. Put into the refrigerator for about 4 hours, and once set, cut into slices as desired.
---