Equipment
Restaurant kitchens have to work hard and can be expensive to equip, so you want to be sure you have the correct equipment for the menus you plan to offer. Research the reliability of equipment you are considering and check the guarantees and the service plans available. You can also lease equipment for free from some suppliers if you buy their products, this includes coffee makers, ice-cream makers and drink coolers.
Here are some suggestions to help you buy the right type of commercial kitchen equipment.
---
Freezer storage
---
Refrigerators, coolers and freezers are the most integral pieces of a restaurant's equipment. The amount of storage you need will depend on your regular stock purchases and how many customers you serve which should be considered when planning the restaurant layout. Restaurant freezers are not suitable for creating ice, so consider leasing an ice making machine.
The most common restaurant freezer is a blast chiller which cools food to a low temperature to prevent ice crystals forming in the food when frozen – essential for storing pre-prepared meals and desserts. Others include under-counter freezers, ice cream cabinets and commercial chest freezers. Reach-in refrigerators, coolers and freezers stand upright and have capacity measured in cubic feet, available in all sizes. These are best kept away from the heated line of cooking. If you have a lot of items that are perishable and take up space, a walk-in freezer may be more suitable.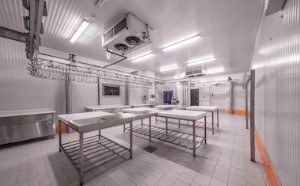 ---
Refrigeration equipment
---
Restaurant refrigeration drawers are commonly referred to as fish-drawers and are used for meat and fish. These are a great choice for smaller restaurant kitchens and are designed to be installed directly in the cooking line, near the grill and sauté stations.
For restaurants preparing pizzas, a refrigerated prep tables is also designed to use directly in the cooking line or preparation area and keep foods fresh with cold rails or cold storage wells. Drawers under the counter provide additional cold storage. Merchandising refrigeration units have a clear glass front door, designed to display foods or beverages, particularly good for restaurants offering a take-out service or to show diners a selection of menu offerings.